Sustaining Members make a significant contribution to the work of The Institute, and demonstrate a deep commitment to financial crime prevention. Their support enables us to provide developmental resources for our community, conduct research, promote industry standards and raise awareness of financial crime.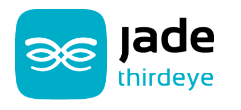 Jade ThirdEye is a SaaS anti-money laundering solution proudly brought to you by Jade Software, a Skipton Group company. Jade Software brings over 40 years of experience to the table. Assisting organisations in the UK fight financial crime since 2012: Jade ThirdEye is configurable according to each organisation's risk profile. The solution is purpose-built to automate ongoing transaction monitoring, customer screening, case management and reporting. Jade ThirdEye reduces time spent on low-value tasks, freeing time to focus on investigating suspicious activity.
Lucinity turns legacy AML compliance into a faster, smarter augmented intelligence tool. We've developed into a global AML provider that combines AI with the expertise of AML teams to enrich compliance within banks, fintech challengers, and payment service providers. We connect technology and purposeful design to help our customers discover money laundering faster and smarter while understanding their customers and implementing streamlined compliance.
Guidehouse is a leading global provider of consulting services to the public sector and commercial markets, with broad capabilities in management, technology, and risk consulting. By combining our public and private sector expertise, we help clients address their most complex challenges and navigate significant regulatory pressures focusing on transformational change, business resiliency, and technology-driven innovation
Beyond is a specialist Financial Services consultancy dedicated to operational excellence, driving value from data and technology, implementing regulatory change, and tackling financial crime. Everything we do is focused on helping our clients succeed in their most critical objectives.

Efficient Frontiers International (EFI) is Europe's leading specialist in financial crime prevention. We deliver expertise based services across KYC, Financial Crime and Operational Taxes helping our clients meet their regulatory obligations and prevent financial crime efficiently and effectively.
Complyport is the leading City-based compliance and regulatory consultancy firm providing bespoke, practical compliance solutions for FCA-regulated investment firms, insurance firms, payment and electronic money institutions, FinTechs and neo-banks, and traditional banking institutions. Our specialist expertise can either sit alongside your current compliance teams or, for an independent solution, we can bring any of our 75 strong team in-house.