New counter terrorism training course
Posted on October 17, 2018
Archive : October 2018
Category : News
Over a thousand companies sign up for new counter terrorism training course
ACT Awareness is an innovative course that could save lives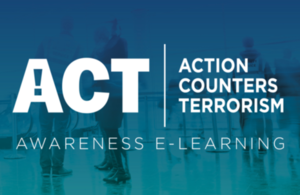 Over 1500 companies across the UK have signed up to an innovative training scheme that could help prevent terror attacks.
In just six months since the product was first made available, organisations as varied as John Lewis & Partners, the English National Opera and Manchester Cathedral have enrolled their staff.
Called ACT Awareness e-Learning, the training was developed in a ground-braking partnership between Counter Terrorism Policing and retail giant Marks & Spencer. It covers how to spot the signs of suspicious behaviour and what to do if an attack should take place.
Free to use, the course can be divided into short sections to suit business needs. However it takes just 45 minutes in total to complete - 45 minutes that could save lives.
Read more: